Tarot Wisdom: The Magician (Major Arcana)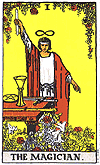 In this card, we see the magician with one hand pointed towards the sky and the other towards the Earth. All the elements necessary to manifest what he needs are on the altar in front of him. This card indicates that we all have the power we need within ourselves. We mold and shape our experience through our beliefs, attitudes, and actions. This card represents learning to see Spirit made manifest in the material world; the art of bringing the sacred to the "mundane tasks" brings a stronger sense of value to daily life. All experiences provide lessons and opportunities when we make the decision to recognize them.
Position 1: Background | Present Concern
The Magician focuses on having faith in the future, fresh starts, manifesting your desires. He is a power card that speaks of resourcefulness, being proactive and well-rounded in your approach to situations. Spiritual work manifesting in material form and bringing a sense of the sacred to all your daily tasks.
Position 2: Your Drive and Motivations
You want a fresh start and are hoping for a radical change in your life, but may need to do more to manifest this new way of life into being. Perhaps you are spending more time planning, thinking or dreaming than actually doing or creating.
Position 3: What's Blocking You – Fears and Subconscious
Fear of failure or being hurt combined with feelings of powerlessness may keep you from taking necessary actions. You may struggle to keep a consistent attitude or have trouble maintaining the motivation to finish the projects you start due to feeling insecure or uncertain of your abilities.
Position 4: Perspective and Further Awareness – What you Need to See Clearly
You are at the first stage of a new phase or development in your life. Take the best from your past experiences and combine that with new knowledge and you will have all the resources required to achieve more of your potential. You have to want something bad enough to make it happen, then you have to take consistent and persistent action to achieve your goals.
If you struggle with persistence on your current path, it may be that you should redirect your energy towards new goals more aligned with you.
Position 5: Course of Action
Take personal responsibility for results. Your resolve and determination have to be strong to achieve positive goals. Being reticent doesn't serve you. Now is a time to take positive action.
[yasr_visitor_votes size="large"]
Free readings are nice, but a professional reading is much more focused and detailed. I have 27+ years of experience and a genuine passion for what I do. Take a look at my affordable, professional readings. Learn More…
Save
Save
Save
Want a more Personal LIVE Tarot Reading?
Get a FREE 3 Min Tarot Reading at Keen Now!
October 2021
All Psychics are:

Expertly Reviewed,
Available 24/7,
Mobile Friendly
Rank
Website
Rating
Offer
Features
Visit Site
1
1
10 Mins for Only $1.99
1000+ Live Tarot Readers
Your Love Questions Answered