The Celtic Cross Tarot reading is one the oldest, and most insightful tarot spreads around, which is why it's also one of the most popular spreads amongst professional tarot readers and beginners alike.  The energy and combination of meanings from the Celtic Cross Tarot spread is almost as mystical and magical as the tarot cards themselves. And if you've ever had a professional tarot reading the chances are you've already experienced the energy of the Celtic Cross.  
Looking for a Live Celtic Cross Reading?
Speak to a Real Expert Tarot Reader at one of our recommended sites below:
All Psychics are:

Expertly Reviewed,
Available 24/7,
Mobile Friendly
Rank
Website
Rating
Offer
Features
Visit Site
2
2
Tarot & Angel Readers
10 Mins for Only $1.99
First 3 Mins FREE
Learn more about how to do a Celtic cross tarot reading, and how a Celtic cross reading benefits your life, by reading on.
NEED SOME CLARITY ON A SITUATION RIGHT NOW?
Go to our verified Psychic site, Kasamba.com.
Sign-up and select your psychic.
Submit your card details to enjoy 3 FREE Minutes.
The psychic will call you for the reading!
Did your reading get the thumbs up?
Give us your feedback in the comments at the bottom of the page!
What is a Celtic Cross Tarot Reading?
A Celtic Cross Tarot Reading is a very insightful and traditional tarot spread that is very versatile and offers detailed information about a topic or situation.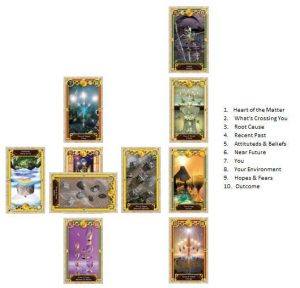 The magic of the Celtic Cross spread is that the meaning and combination of the positions can tell a tremendous story because it offers multiple ways to view a situation and often draws attention to the things that are important for the client or querent.  Even if the client is not focusing on something that is important.
If you call in for a reading from a professional tarot reader, the chances are that they are using this spread to read for you.  In fact, when I used to read professionally, I'd use this spread with the same cards laid out for multiple readers and the meanings would be unique and entirely different for each client!  
Who is  Celtic Cross Tarot Reading For?
The Celtic cross tarot spread, as you have probably already realised is very powerful and is applicable for almost any type of situation, question or reading that you might think of, or need.  
However, the Celtic cross tarot spread is particularly useful for understanding complex situations with multiple influences, which is why it's excellent for;
General readings
To help somebody understand what energies and influences are around them in their life.
To find advanced information about topics such as; love, relationships, well being and work issues.
How the Celtic Cross Tarot Is Laid Out
This is a typical layout for the Celtic Cross Tarot spread.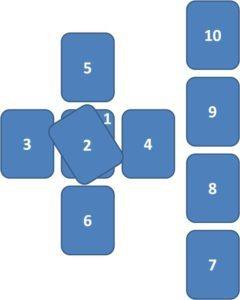 When you are laying out the cards, you lay your first card in position one, and then position the cards in numerological order.  
The cards should be positioned face up and attention paid to how you turn the cards – making sure that you use the same technique for each card, or reading.  
The Positions Of The Celtic Cross Spread
Card 1.  The Situation, or Heart of The Matter.
This position reflects the reason why you have sought advice from the cards or something that your attention is guided to.  It's the problem you are experiencing and the heart of the situation. Which gives you a great starting point for your reading because it sets the tone.
Card 2.  The Cause Of The Situation, or What Covers The Problem.
This card will help to understand what is causing a problem, or what you need to address to uncover the heart of a situation.
Card 3.  The Past
This card will reflect how this situation has affected you in the past, or energy that is moving into the past.  It's particularly good if you see a card that represents conflict move into the past!
Card 4.  The Future
If everything continues in your life as you currently are (without any additional changes or influences) then this card will represent what you can experience concerning the situation soon.  Which could be as soon as a second after you have read this card.
Card 5.  What is Above The Situation
This card reflects the energy or influences surrounding you that you could draw into the situation – for better or for worse.  Of course, you'll be able to figure out what type of energy is above you by reading the meaning of the card that falls into this position.
Card 6.  What is Below The Situation
This is the energy, situations, or influences that are currently feeding your problem and drawing you further in.  Again, for better or for worse.
Card 7.  You As You Are Now.
Card seven reflects how you are currently experiencing the situation, and because this position is number 7, it will also indicate everything about you that you cannot see yourself.
Card 8.  How Others See You.
You might be feeling weak and insecure, but others might see you as being strong and powerful. This position shows how you are perceived by others, in particular, anybody that your reading relates to.
Card 9.  Your Hopes and Fears
Card nine represents everything that you hope and fear.  If this card doesn't align with your desired outcomes, then this is a clue that there is something to work in your belief systems.
Card 10. The Outcome
This is the outcome that you can expect as things stand right now.  Things can change, however, and if something changes since you pulled the card then there high possibility that you can change the outcome.  However, if you have a major arcana card in the outcome position, then you will experience the energy of the card no matter what you do, as part of your destiny.  
Common Uses For The Celtic Cross Tarot
To find out about what you should focus on in your life at the time of reading.
For help with love and relationships.
To help you deal with conflict and problems.
For guidance on career-related topics.
To help you make the right decisions.
To overcome loss or grief.
How to Read The Celtic Cross Tarot Spread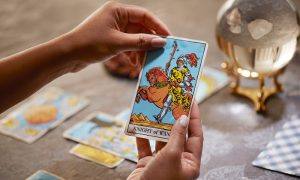 If you want an in-depth reading, it's wise to consider calling a professional tarot reader to help you because learning tarot and making the most out of the Celtic cross spread takes a lot of time and experience.  
But if you are happy to use it to start learning, or to get a loose idea of what is happening in your life, then here's how to read the Celtic cross tarot spread as a beginner:
Step 1:   Relax and clear your mind.
Step 2:   Staying relaxed, start to shuffle your tarot cards and think about the question, person or situation that you'd like clarity on.
Step 3:   When you feel ready stop shuffling and start to lay out the cards in the layout and order as described above.  Making sure that the first card you lay down is in position 1.
Step 4:   Look up the meaning of the card (using the guide that came with the tarot cards) and try to see how the card in the position it has fallen in relates to your life.  
If you want to learn more about advanced techniques for reading the Celtic Cross Tarot Spread this book The Tarot Companion is handy, it will tell you how to read reversed cards (upside down cards), how to time the tarot, how to read the astrological and numerological influences as well as how to interpret the symbols on the cards.  
What You Can Expect From Celtic Cross Tarot Reading
A Celtic Cross tarot spread reading will bring you in-depth insight into all essential issues in your life, even if your attention is not on them!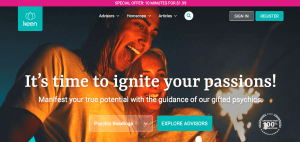 For example;  you might call to discuss your love life, but the cards will tell you what is occurring not just in your love life but also in the energy surrounding you. They will bring your awareness back to what's important for you, so that you can stay on you lifepath or to maintain your wellbeing.
Which means occasionally bringing information to your awareness that you might be ignoring, accepting or have not prioritised.   
If you want an in-depth reading that brings everything that you need to know to your attention, then you can expect that from a Celtic Cross Tarot reading.  
Where To Find the Best Celtic Cross Tarot Readers Online
Plenty of experienced tarot readers read the Celtic cross spread every day.  The best can be found on these sites.
Our favourite psychic sites:
Click the links and follow the instructions to book your reading now.
STILL NOT SURE?  
Here are the Pros and Cons Of Getting A Celtic Cross Tarot Reading Today
PRO'S
Get in-depth information on any situation in your life.
Better than therapy!
Gives you control over your life.
Plenty of choice of readers to suit your tastes.
Professional readers provide high-quality responsible readings
A reading will never be intimidating

CONS
You won't always hear what you want to hear
You cannot control the message.
If you are not meant to hear something you won't and vice versa
You may not always like the delivery style of your chosen reader.
You'll always be given what you can handle, but you might not feel as though you are ready to hear it (even though if it's given to you-you will be prepared).
Are you ready to take the plunge and try out your first reading?  
Don't forget to give us feedback after!
You may also like;
Numerology Reading Where To Get An Accurate Reading
Spiritual Readings: Where To Find The Best Readings Online
A Guide to How to Ask Tarot Questions Effectively
Want a more Personal LIVE Tarot Reading?
Get a FREE 3 Min Tarot Reading at Keen Now!
All Psychics are:

Expertly Reviewed,
Available 24/7,
Mobile Friendly
Rank
Website
Rating
Offer
Features
Visit Site