Tarot Reflections The Moon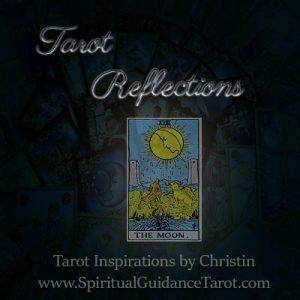 This card symbolizes deceptions, depression, and all that is associated with them. The scorpion rises up out of the water (emotions) and is poised to strike. Often our emotions and feelings of being overwhelmed can sting like this scorpions bite, without much warning. It is in these moments we are called to remember the power we have to choose how we act/react.
Our power lies in our ability to carefully choose our actions, what we will believe etc. There is a saying that says "To worry is to pray for what you don't want". When we focus on hardship we bring more of the same to our lives through the law of attraction. Learn to take charge of your reactions and don't be overcome by circumstances. This too shall pass.
The moon speaks also of intuition – that ability to sense/feel what is going on, but in a way that is not clouded by fear and judgments. Learn to listen for this still, small place in moments where it feels emotions may overwhelm you.
Be a good friend today to someone in need (perhaps even yourself) who needs an objective person to listen and empathize. Use your emotional/intuitive side to benefit others. If you feel someone is in need of something you can provide aid that person. If you are in need of some down time to clear your head, take some time for yourself to do just that.
Take anyone's overreactions or overemotional displays with a grain of salt. We all have those days where our emotions get the better of our sound judgment. Be careful you aren't the one overreacting too ;).