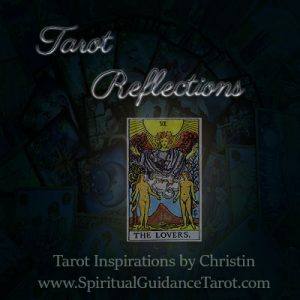 The Lovers card is a Major Arcana card that centers strongly around fulfillment and desires. This card warns us not to let our heart/emotions cloud our judgment! This is a good time to take inventory of your life and find out if you are truly going for your hearts desires, or are you stagnating? Are you settling for less than you deserve? or are you unsure of what will bring you fulfillment ultimately? Do you depend on others for happiness instead of seeking personal fulfillment?
Today's card asks you to find your true passion, a cause or life path that really lights a fire in your soul. Seek this path out now, the time is right. You may just "stumble" across something unexpected that will start you on a whole new mission 🙂
The Lovers card also talks to us about unions, not only with our spouses or significant others but with ourselves… what can you do to be a better friend to yourself? Remember that soul mate staring
back in the mirror at you every morning, and see that your basic needs are being fulfilled. Those who are satisfied personally find it easier to draw stronger, healthy people into their circle and healthier relationships are formed.
The Lovers card also speaks of sensual pleasures, take a long walk in nature, a bubble bath, drink a nice blend of coffee or tea. Let your senses come alive and take some time to enjoy the beauty of your life and all the pleasures we take for granted in the seemingly smallest things. Spend some time being fully conscious and aware and your daily life will be richer and more meaningful.