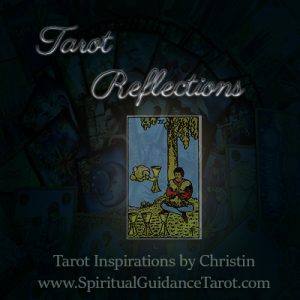 Today's card highlights a very important concept when it comes to manifesting our ideal reality. When we want to bring about positive circumstances in our lives it is important to NOT focus on limitations and loss.
Often we get caught up in those thoughts in one form or another. I wish I wouldn't have done ________. I don't have enough _________. If only I had__________, I would be happy. You likely fill in these blanks in your thoughts much more often than you realize.
Today's card is a simple reminder that what we focus on – shows up! A lot of us are busy creating the very opposite of what we want – because that is what we give our energy to so passionately!  ;).
I have a challenge for you today. Pay attention to your thoughts and just see for yourself how often they become limiting in some way. You may be very surprised at the results! As that happens; consciously rework and focus on a new, empowered version of that thought.
Instead of "I need more money I am broke", instead redirect your thoughts to "how can I attract more abundance and opportunity?" You'd be surprised how creative the mind can be when it is being proactive rather than reactive.
The Four of Cups
In this card, we see the young man sitting beneath the tree looking rather perplexed and kind of tired. He is really focused on those three half-empty and spilled cups on the ground before him.
He's so caught up in his focus on those cups that he doesn't see the hand of the Divine reaching out to him with an overflowing chalice. This card speaks of both law of attraction and being open minded.
What we focus our energy on continues to manifest. When we are so focused on limitations and lack we leave no room for new opportunities and circumstances to enter – not because the Universe isn't working to provide them, but because we become blind to them in our worries and other distractions.
Today take the time to focus on what you DO want to manifest in your life – and do it in the present tense. You want to be happy – choose to do something that makes you feel joyful today. Want to feel prosperity? Give to someone in need and focus on your blessings. Need to feel more fulfilled? Take time today to set yourself as a priority and make sure your needs are met.