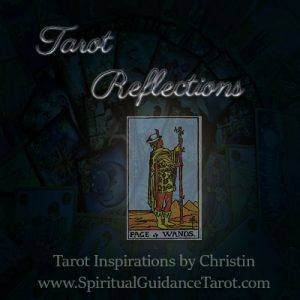 The Page of Wands is an optimistic, youthful sort filled with enthusiasm. He is full of great ideas and passion and so he leaps into his projects head first. His zeal in whatever he does is infectious to others. Pages represent learning and knowledge. Wands are the suit of fire, passion, and initiative. They are the drive behind a project, that "gung ho" type energy that is often very exciting, but not often well-planned.
This page represents those people you run into and can't help but smile because they have such positive energy emanating from them. They have a sense of adventure and enthusiasm. They take risks and adjust well to change.
Page of Wands typically indicates a personal desire for expansion or a fresh start. Longing to break free from stagnation or from restrictive influences. This page represents that enthusiasm and anticipation when starting a new adventure.
The Page of Wands, however, does also pose a challenge that we need to work to maintain that enthusiasm and finish what we start. Often times this page comes up when the initial excitement is there, but perhaps not the long-term plans that are required to keep that initiative in place.
If you find you have some unfinished business that needs to be attended to; do what you can today to tie up loose ends so you can move on to the next adventure with all the excitement and none of the leftover worries of unfinished business.
Save