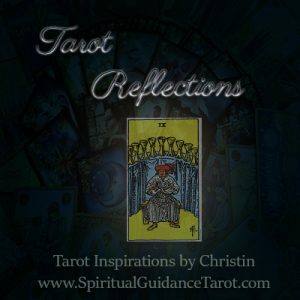 The banquet table is full, and the man in the picture sits before us looking happy and content. This card reminds us to enjoy all the bounty of life and to find pleasure in the simple things.
This card also serves as a reminder, however, to not overindulge. We must learn to honor all experiences in life for what they have to offer us, even when times are difficult there is always still much to be thankful for.
Don't allow fear or a need for comfort cause you to go beyond your means or engage in unhealthy behavior, moderation is key. Celebrate abundance but remember that all things are best enjoyed in moderation.
This card often comes up for fondest wishes being granted as well, and it reminds us that dreams only come true when we act on them. If you've been dreaming more than actually working towards your goals, the nine of cups reminds us that we make our own "luck".
Focus on abundance, solutions over problems, being proactive over being passive or defeatist, and you'll find that your "luck" will also dramatically increase.