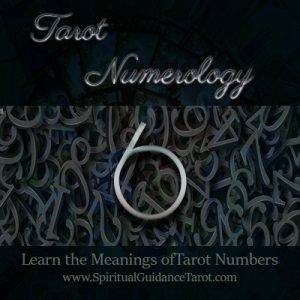 The number 6 in Tarot speaks of practicality, being down to Earth and focused more on everyday living, caring for family, work and immediate responsibilities.  People with this number have a strong desire to serve others coupled with a strong sense of responsibility.
Numerology plays an important secondary role in the Tarot.  When several cards with the same number appear in your spread or are drawn frequently, those numerological influences will also be playing a strong role in the current atmosphere.
Six comes up around the material realm, being focused on the here and now, survival and basic human needs and instincts.
Six people can sometimes have a very simplistic view of life when not properly balanced and may see the world in terms of "black and white".  They can be traditionalists to the point of having difficulty opening up to new ideas or ways of doing things.
The Six person has a need to feel valued by others and is often called to service careers.  They are loyal, hard working and dedicated.
Strengths of this number: service oriented, responsible, desire to be helpful
Challenges of the Six: Can be needy, sometimes stubborn and resistant to change, too focused on the material realm.
Save
Save
Save
Save