Tarot Reflections The Queen of Wands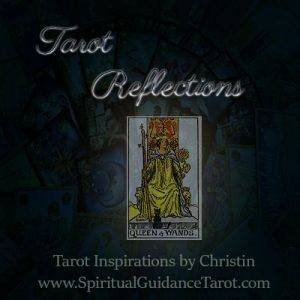 In this card, we see the queen sitting upon her throne. Behind her are grayish kind of drab skies and in front is her familiar, her companion represented in the kitty cat before the throne. This queen is loving and affectionate. She aims to please and longs to receive love and attention in return.
Generous and always giving of her time and resources, sometimes this queen gets so caught up in others she loses her own sense of identity. Her own needs get put aside, and without being attended to; they begin to loom behind her.
She reminds us that in self-fulfillment we are better able to draw others to us who respect our decisions and value our uniqueness.  Being a strong role model and example for others requires us to know ourselves and to be confident with who we are. We cannot give what we don't have.
Often we are told that to be self-serving is an act of selfishness. However, being self-fulfilled is not only not "selfish", it is a sure way to return something positive to the world. Those who take the time to fulfill their own destiny inspire others to also find themselves. This card reminds us to balance time spent on ourselves with our other obligations if we are to remain strong. Don't allow your dreams to be placed on the back burner.
Today honor yourself and the important role you play within your family, place of employment, and community. Recognize your ability to lead by example, and use your fresh new ideas and inspirations to enhance your experience and bring joy to those around you. Remember we can't "fix" others, but in working on developing our own strength, we will naturally inspire others to do the same.