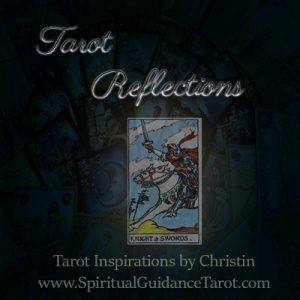 This is an action card! Whenever a Knight appears in a spread it indicates sudden changes are about to occur. They bring with them a sense of unpredictability and excitement. Knights often speak of blessings in disguise or opportunities that come in from out of the blue.  It's important to be open to all possibilities.

The Knight of Swords reminds us to cut away all that isn't serving our highest good so that new opportunities have room to enter.  What's holding you back? Bad habits, procrastination, negative mindsets? Whatever it is that keeps you from embracing positive change with enthusiasm; this is the time to take swift action to correct those tendencies.
Knights also speak of the need to avoid overreacting or jumping the gun. A good time to think before speaking, this Knight cautions against being overly headstrong or impatient. Sometimes when we react, rather than plan our actions carefully, we end up sabotaging ourselves and creating more problems that could have been avoided.
This Knight also brings a message of "get moving" to the procrastinator in us. Avoidance and procrastination are often the results of "fight or flight" response.  You may be procrastinating, not due to laziness, but due to actual unacknowledged fears. There's no time like the present to catch up with all that stuff we've been avoiding.  Acknowledge the real reason for delays and it will make it easier to start moving again.