Daily Tarot Reflections King of Wands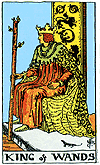 King's represent leadership and wise decisions. This King represents intelligence and creative thought. He is always planning and thinking about things. Wands represent the planning stage that happens before things are set in motion.
This particular King is particularly good at thinking/planning and organizing, however, the follow-through may be a bit lacking and that requires bringing others together in the spirit of cooperation to help make things happen.
Another theme to this card is to learn how to organize your thoughts and ideas (and maybe even your workspace/environment) in a workable manner. Clutter, whether internal in the form of racing thoughts, anxieties etc or external in non-functioning space, leads itself to chaotic energy and stifles the spirit.
Remember, no one can do everything all by themselves. It's good to gain the assistance of others who support your ideas (provided they are ones that serve your highest good). This King provides leadership by drawing others together. He is able to plan well and bring ideas to inspire others.
Today, look for ways to encourage others and embrace the idea of "team work". Seek a supportive environment in which to express yourself.
Also, if you find you've had difficulty concentrating or setting and maintaining goals, take some time to sort through any clutter that may be sabotaging your good intentions.