Tarot Reflections The Ace of Swords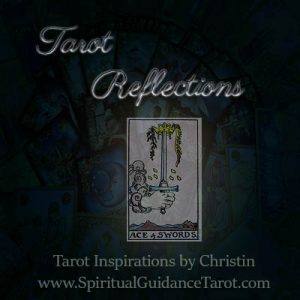 A card of change, growing by cutting away that which no longer serves your growth so that you can gain new opportunities and have a fresh start. The Ace of Swords indicates a period of overcoming obstacles and clearing the path to new and better opportunities.
When the Ace of Swords comes up it indicates a time to wipe the slate clean and start fresh. Do you have a situation in your life that needs to be cleared up to get you toward your goal of inner peace? It's time to reconcile the differences.
When spring approaches many of us set about the task of spring cleaning, a sort of ritual almost in releasing the old and welcoming the new potential of spring. This card reminds us that now is a good time to for another "housecleaning" of sorts. Take time to clean up areas that no longer serve your growth; then you can wake up to more of your potential with the same enthusiasm and new energy that accompanies the arrival of Spring.
Swords are action cards, Aces new beginnings, and fresh starts. This ace reminds us that complacency or procrastination are harmful; by removing all that is no longer needed, you make room for better circumstances to make their way to you.
Key lesson of this card: When you weed a garden – you allow it to flourish.
Save