It's hard to imagine life without a decent app (or 50!).  2018 marks a time when almost everyone has a smartphone to hand, and if you do, then you'll understand the fascination and benefits of a well-designed app and tarot reading apps are no exception.
Many of the best tarot reading apps out there right now have people with the passion for tarot behind them, which is reassuring, but there are a few tarot apps that are not so loaded with integrity that you might want to avoid.
To help you navigate the wiley world of tarot apps, we predict that this is the only tarot reading app guide that you'll need this year!
NEED SOME CLARITY ON A SITUATION RIGHT NOW?
Go to our verified Psychic site, Kasamba.com.
Sign-up and select your psychic.
Submit your card details to enjoy 3 FREE Minutes.
The psychic will call you for the reading!
Did your reading get the thumbs up?
Give us your feedback in the comments at the bottom of the page!
Are Tarot Reading Apps Better Than Tarot Cards?
The Tarot Cards
As a tarot reader, I can officially state there is nothing quite like using real-life tarot cards – there really isn't.  I say this not because it hurts a little to discuss tarot from a digital perspective (ok, it hurts a lot) but because there is energy that rises from the cards when you physically have them in your presence, which is diluted when you use a tarot reading app.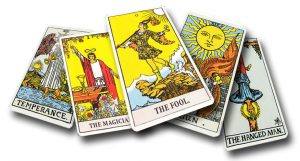 Plus, I like to think that my cards build up a patina of energy that represents everybody I have read for and enhances the relationship and reading experience of the cards which is not something that you can do when you don't have a physical pack of cards handy.
Tarot reading apps, are convenient they don't take up space, and you can easily access many different tarot cards and spreads without being physically weighed down.  And even though the energy is diluted in a tarot reading app, it means that you can at least look at the different card decks and find out if you like them, or feel a connection to them before you buy the real deal.
The Tarot Reading App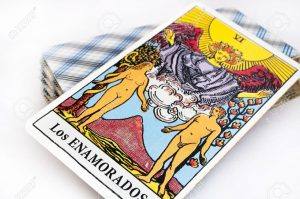 Tarot reading apps are also handy if you just want a quick, free tarot reading, and there are plenty of those available with a tarot reading app.  They are also usually loaded with information about the cards which means you are essentially carrying around a tarot library in just one app. Which can be a quite persuasive argument when it comes to turning a seasoned and traditional tarot reader into one who at least explores a tarot reading app. 
Who Are Tarot Reading Apps For
There are some pretty good reasons why you should consider using tarot app, and as a result of the research I've carried out on these apps, I'm going to be keeping some apps on my phone too – just in case!
Here are some great examples of who a tarot reading app is useful for and why you might consider using one.
As a beginner, you can have a robot read your tarot for you, so you don't have to read them yourself.
They are a great way to test out a different style of tarot card before buying.
You can secretly do, or learn tarot while you are on the tube, or during your break at work.
A version of your cards can be carried around in your pocket without having to lug a big box of cards around. Handy for the occasional impromptu reading.
You might feel protective over your cards and only like to take them out in the right environment e.g candles, crystals, protection etc.
You can use it as a resource to compare the meanings of the tarot cards. Y
You're really not sure about this whole tarot thing and just want to play with it on your phone because, y'know, an app could never really mean anything, could it?
The Top Ten Tarot Reading Apps 2018
Now we've discussed the in's and outs of tarot reading apps, here are the top ten tarot reading apps for 2018.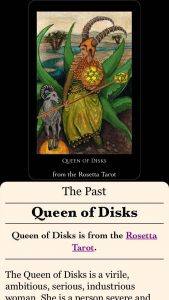 The Fool's Dog, LLC – iOS and Android
Fools Dog apps are seasoned and passionate tarot pro's and while most of their apps are £3.99 (some of which are included in the list below) they have a free app which gives you access to a variety of different decks, functions and layouts that most people love about Fools Dog apps.
You can expect:
Extensive information on cards and spreads
A Journal to help you learn tarot.
Ten different decks Information on the decks
The aesthetics are great
You can get a full reading
Opportunity to share your readings online for further insight.
This app is loaded with relevant and honest tools and information and offers you an excellent opportunity to explore different tarot decks (and believe me there are many decks which are all tempting and can become expensive to buy!).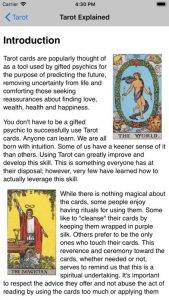 Phuture Me Ltd – iOS
So this app is more than a tarot app, but since the tarot uses a LOT of numerology, it can only enhance your experience and help you develop your tarot skills even further.
You can expect:
Creator integrity
Personal numerology analysis
The moon's phase
Signs the sun and moon are in.
Find out your life path number
Tarot spreads for the week ahead based on your birth date.
Access to plenty of tarot spreads that instantly load.
A brief interpretation of the cards.
This is an extensive app, which provides the beginner, or somebody who is just looking for readings everything they need.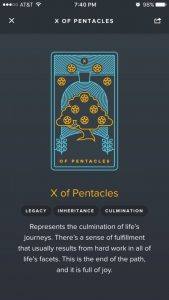 Tina Gong –  iOS and Android
This is another fantastic and charming tarot reading app who demonstrate their passion and appreciation for the art.  The design is inspiring, and it also takes responsibility by reminding people that the true essence of tarot lies in the cards of your deck and that this app should be used as a convenient tool or a tool for your tarot studies – Kudos to Tina Gong for acknowledging this.
You can expect:
A tarot journal
Journal prompts
Lessons
Database
Clean and inspiring design.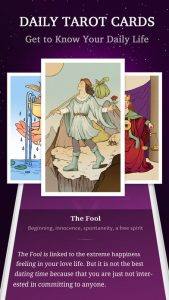 Tap Genius
This is a good tarot reading app with a simple interface that even includes a few extra 'daily readings' there is quite a lot of options for a free app.  But there isn't any opportunity to learn the tarot or understand the meanings of the cards aside from comparing the message with the card that you pull out in your reading.
You can expect
Daily lucky colour
21 Different spreads
Daily lucky number
Daily Horoscope
Yes or No questions
5: Yes No Tarot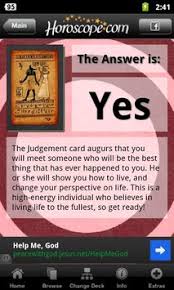 Horoscope.com Inc
This is a fun tarot that you might want to take a light-hearted approach to, but it's still worth a look.  You select a topic, ask a question, choose a card, and your yes-no answer will be revealed.
You can expect:
Simple and easy to use format
Requires no instruction
Fun and responsive.
Final Five Favourite Tarot Reading Apps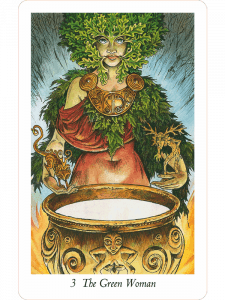 If none of the above tarot reading apps appeals to you, then the next few might just do that but be warned, while the feature of these apps are as good as the top free, most of these options are paid apps and cost around £3.99 to access.
Shadowscapes by The Fools Dog LLC
Steampunk tarot by The Fools Dog LLC
The Wildwood by The Fools Dog LLC
Anna k tarot by The Fools Dog LLC
Angel Tarot by Mobio Eud 
The Pros and Cons Of Using Tarot Apps
PRO'S
Get clarity on any situation right from your pocket!
A great way to become familiar with the cards.
Allows you to secretly use tarot without others knowing what you are doing.
Try out different packs before you buy.
Lots of details about different spreads, symbols and features of the cards.
Perfect for beginners, and for people who don't want to learn tarot but want a vague idea of what's happening.
A fun way to explore tarot, which feels a lot less spooky (which some people might appreciate).
CONS
The true value of tarot lies in your own interpretations of the symbols and energy of the cards – not from a book or somebody else's keywords which will result in superficial readings.
The energy of the tarot appears to be diluted with a tarot app.
Some tarot app creators might not be credible, and so neither will the readings.
You'll need to interpret the meaning of the cards into your own life, whereas with a professional tarot reader, they will help you, or show you how the message fits in.
Who A Tarot Reading Is For
If you have a tarot reading app, or not, there are times when you will benefit from more profound insight into a situation and a higher perspective. Particularly if you seek reassurance, guidance or support in some way.
What You Can Expect From A Tarot Reading
All tarot readings should be uplifting and insightful, and should fill you with energy and bring your perspective around to what you can do, or should do in a situation, which is empowering and puts you in control of your life.  You can expect that from any of the tarot readers reading for the psychic sites I've listed below.
Here are our picks:
Click the links and follow the instructions to book your reading now.
Kasamba- Get three minutes free!
Oranum – No offers but a wide variety of different types of spiritual readings.
Psychic Source- Low priced readings right now! Keen- 10 minutes for $1.99
Will you try out a tarot app, or even your first live reading?
Don't forget to give us feedback after!
You Might Also Like
Numerology Reading Where To Get An Accurate Reading
Spiritual Readings: Where To Find The Best Readings Online
A Guide to How to Ask Tarot Questions Effectively
Want a more Personal LIVE Tarot Reading?
Get a FREE 3 Min Tarot Reading at Keen Now!
All Psychics are:

Expertly Reviewed,
Available 24/7,
Mobile Friendly
Rank
Website
Rating
Offer
Features
Visit Site
1
1
10 Mins for Only $1.99
1000+ Live Tarot Readers
Your Love Questions Answered