Free One Card Tarot Reading The Hierophant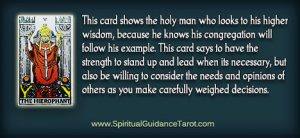 This is a card of incredible responsibility where you are called upon to consider the possible long-term rewards and/or consequences of your actions. What you are contemplating at this time will impact more than just yourself and you need to examine this as you move forward with this venture.
This card shows the holy man who looks to his higher wisdom because he knows his congregation will follow his example. This card says to have the strength to stand up and lead when it's necessary, but also be willing to consider the needs and opinions of others as you make carefully weighed decisions.
Are you approaching the situation from a truly higher perspective? Are your motives pure, or is there too much self-interest? It is always wisest to balance the needs of self and others. This card reminds you to not go too far in either direction.
Save
Want a more Personal LIVE Tarot Reading?
Get a FREE 3 Min Tarot Reading at Keen Now!
October 2021
All Psychics are:

Expertly Reviewed,
Available 24/7,
Mobile Friendly
Rank
Website
Rating
Offer
Features
Visit Site
1
1
10 Mins for Only $1.99
1000+ Live Tarot Readers
Your Love Questions Answered