Free One Card Tarot Reading the Hermit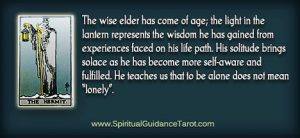 In this card, the wise elder has come of age. The light in the lantern represents the wisdom he has gained from the experiences he's faced on his life path. His solitude brings solace as he has become more self-aware and fulfilled from within. He teaches us that to be alone does not mean "lonely".
When this card comes up you are asked to be self-reliant now and to find your own solutions, but this is a process of growth. Those who take chances on themselves gain wisdom and understanding and also build more opportunities for themselves.
This card reminds us that there are no easy answers, no one can give us our answers or supply us with peace, happiness, fulfillment, etc. Those things must be cultivated from within and then we attract other people/circumstances to us that are of a higher level to share with.
If you are struggling with what to do just now, look inside yourself to your inner wisdom and make a decision based on that inner knowing – not merely what you "think" you want or need or what others may think. This card tells you that you are being called upon at this time to live authentically, creating your own destiny.
Need guidance? Take a look at my affordable, one-of-a-kind readings, done always with my own two hands and an actual deck of cards – NEVER a software package. Learn More…
Save
Save
Want a more Personal LIVE Tarot Reading?
Get a FREE 3 Min Tarot Reading at Keen Now!
January 2022
All Psychics are:

Expertly Reviewed,
Available 24/7,
Mobile Friendly
Rank
Website
Rating
Offer
Features
Visit Site
1
1
10 Mins for Only $1.99
1000+ Live Tarot Readers
Your Love Questions Answered