Free One Card Tarot Reading the Devil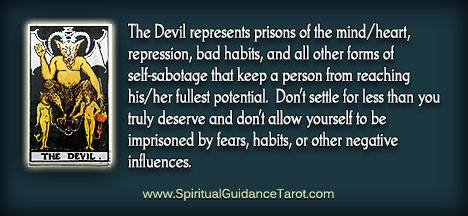 The Devil represents prisons of the mind/heart, repression, bad habits, and all other forms of self-sabotage that keep a person from reaching his/her fullest potential. When this card comes up you are likely settling for less than you deserve or making excuses for poor behavior in others – and even yourself.
This card speaks of recognizing things that hold you back so that you can face them and overcome them. There are likely issues of this nature surrounding whatever area you drew this card for.
Don't settle for less than you truly deserve and don't allow yourself to be imprisoned by fears, habits, or other negative influences.
This card also says to be cautious as someone around you may not have your best interests at heart at this time. Be careful who you trust and also be honest with yourself when this card comes up.
Save
Save
Save
Save
Want a more Personal LIVE Tarot Reading?
Get a FREE 3 Min Tarot Reading at Keen Now!
October 2021
All Psychics are:

Expertly Reviewed,
Available 24/7,
Mobile Friendly
Rank
Website
Rating
Offer
Features
Visit Site
1
1
10 Mins for Only $1.99
1000+ Live Tarot Readers
Your Love Questions Answered