Tarot Reflections Justice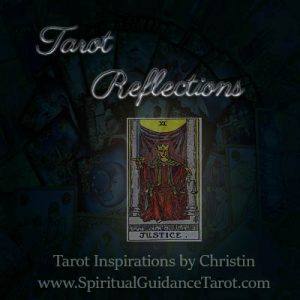 This card reminds us that true justice is an act of mercy, not cruelty. Often we look at justice as "an eye for an eye" and not as an act of discipline. Discipline is not the same as punishment and it doesn't enact revenge. This card reminds us that to reach our fullest potential, we must learn to become self-disciplined while releasing self-sabotaging habits like punishing or berating ourselves.
Often we try to live up to concepts or ideals that are impossible to attain. This leads to setting yourself up for certain failure. When this card comes up we are told to reflect on ways that we are unjust to ourselves. Time to stop exacting punishment and develop acceptance and compassion. Negativity is a repeating cycle that must be recognized, understood, and then broken.
Today be mindful of the demands you place on yourself. If you haven't been disciplined enough lately; tighten the reigns a bit. Now is a good time set clear, decisive intentions and follow them up with inspired action. Direct your thoughts and deeds in healthy directions.
If you are facing decisions and feeling a bit confused; this card reminds you of the importance of level-headed choices not based solely on fear or passion, but considered judiciously and fairly – just like a judge in court.
If you can't set aside emotions enough to be objective, own it and seek out a second objective opinion before making any rash decisions.
Questions for Reflection
Do you engage in self-sabotaging habits like negative self-talk?
Do you accept things in others you would never accept in yourself?
Do you have realistic expectations?