Spiritual Guidance Tarot has been around since early 2002.  This website has a well established following and users who seek guidance here regularly.  If you have a product or service you feel my visitors would benefit from I would be happy to speak with you further and you can contact me using the form at the bottom of the page, or view the current ad rates and policies below.
A bit about my audience:
My users consist of primarily, but not exclusively, females.  My clients and site visitors are discerning and not interested in "fortune telling" gimmicks, but in real tools to help them improve their lives and better understand themselves.
This site provides amazing spiritual guidance tools and would be a good match for life coaches, healers, counselors, self-help authors and mentors, numerologists and even astrologers who are dedicated to truly helping clients improve their lives.
I will NOT approve advertisements from websites that engage in less than ethical behavior. This includes "per minute" sites that do not vet their readers and do not offer valuable non-paid content to their visitors.
My site receives approx 80,000 page views per month.  The image below is for June 2016.   My visitors are engaged and I have a good blend of new and returning visitors. My long average session time means my visitors are engaged and viewing long enough for your ads to be easily noticed.
My site also does not allow views from people using ad blocking software, so you are sure to get plenty of views to your ads at affordable rates.

Advertising Rates – Banner Ads
I am currently offering a 125 x 125 banner ad space in the sidebar of all pages for $99 for one month.  Your ad will be seen on the sidebar of all site pages.  Ads are rotated in position and your ad will change spots in the rotation for the month it is purchased.  There are only 4 ads in this block and it will have prominent placement across all pages.  This is an amazing deal.

I am currently running ads in this slot for my other website TotemWisdom.com  Below is the traffic this banner has generated with 2 weeks of placement.  The statistics are for the month of June only, so it's actually more than this, but you can get an idea here how well these little ads are working.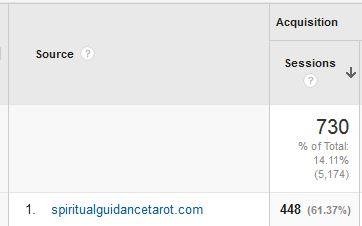 If space is available; you can click on the "advertise here" slot on any page and you will be taken to a sign up page.  Once your payment is made; I will be in contact to help ensure your ad is the way you want it.  Your ad, once approved, will go live right away.
I also have banner ad space available in the full banner (728 x 90) size.  These ads run for $5 per day per ad and can be tailored to whichever pages/posts you want to target.
[turbo_widget widget-prefix=text&obj-class=WP_Widget_Text&widget-text–title=&widget-text–text=%3Cscript+type%3D%22text%2Fjavascript%22+src%3D%22http%3A%2F%2Fspiritualguidancetarot.com%2Fwp-content%2Fplugins%2Foiopub-direct%2Fjs.php%23type%3Dbanner%26align%3Dcenter%26zone%3D2%22%3E%3C%2Fscript%3E&widget-text–filter=false]
You will have access to statistics and be able to see how your ad is performing whenever you like.  There are simple tools you can use to track your ads performance.
Please note that I keep ads nicely tailored to my website and do not permit gaudy or garish ads.  Your ads must be tastefully done and not intrusive to the user experience of this website.  No flashing, blinking or otherwise obnoxious ads will be accepted.  Need help creating a custom ad that converts?  I can build you one that you can keep and use wherever you like for $25.

I reserve the right to accept or reject advertisements at my sole discretion; Ad payments are only due upon acceptance which typically takes 24 hours or less.
Do you have any advertising related questions?  I'd be happy to talk to you.
[wd_contact_form id="7″]
Save
Save
Save
Save
Want a more Personal LIVE Tarot Reading?
Get a FREE 3 Min Tarot Reading at Keen Now!
October 2021
All Psychics are:

Expertly Reviewed,
Available 24/7,
Mobile Friendly
Rank
Website
Rating
Offer
Features
Visit Site
1
1
10 Mins for Only $1.99
1000+ Live Tarot Readers
Your Love Questions Answered